My goal in life is to be as good of a person as my dog already thinks I am.
How Carmen conquered her fear of dogs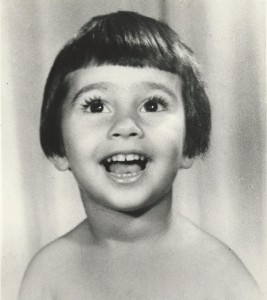 A long time ago… a little girl was born in Rumania to an Armenian father.
She grew up without any pets.  Her father had been bitten by dogs several times.
Needless to say the little girl was brought up with a fear of dogs.
That little girl was me.
As a teenager, I immigrated with my parents and older sister to the US.
I graduated college with a BS in Dental Hygiene Education.
I am living proof that change only takes place when one is ready.
At 34 I was ready. Ready to overcome my fear of dogs.
I did my research.
I knew I had to start with a puppy.
I had decided on the breed.
I did not know what I didn't know. I had NO idea.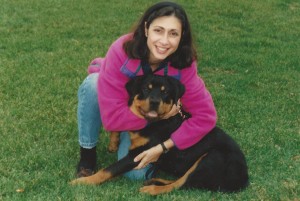 I rescued a Rottweiler puppy at 5 weeks from a back yard breeder.
I am forever grateful to Dr. Joe Haddad, the veterinarian who recognized I needed to get professional help if I wanted to keep this puppy. So, professional help I got…LOTS OF IT.
And it was indeed a long rocky road with Rocky. 
I am also forever grateful to Dr. Ian Dunbar whom I met at a 4 day workshop on
Dog Aggression. He saved Rocky's life with all the knowledge and guidance he made available to me.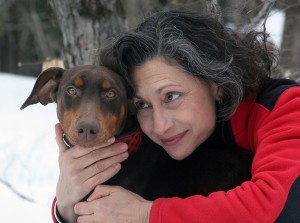 I had embarked on the mission to do all I could to give Rocky a good life in spite of the fact his genetic makeup was not ideal for a pet dog. Just about every weekend for the first year, Rocky and I would travel to workshops and seminars. I was soaking up every bit of information and constantly worked on modifying Rocky's dominant aggressive predisposition.
Dr. Roger Abrantes, Dr. Pamela Reid, Jean Donaldson, William Campbell, Terry Ryan, Cheryl Smith, Gary Wilkes, John Rogerson are among the many  who had an enormous influence on who I am and what I know today. Most of all, Rocky made it all happen!
Dr. Ian Dunbar became my mentor and it was he that encouraged me to share my knowledge and help others.
Over the many years since, I have had the opportunity to touch the lives of over 10,000 dogs and their human families.